Heavy Equipment Service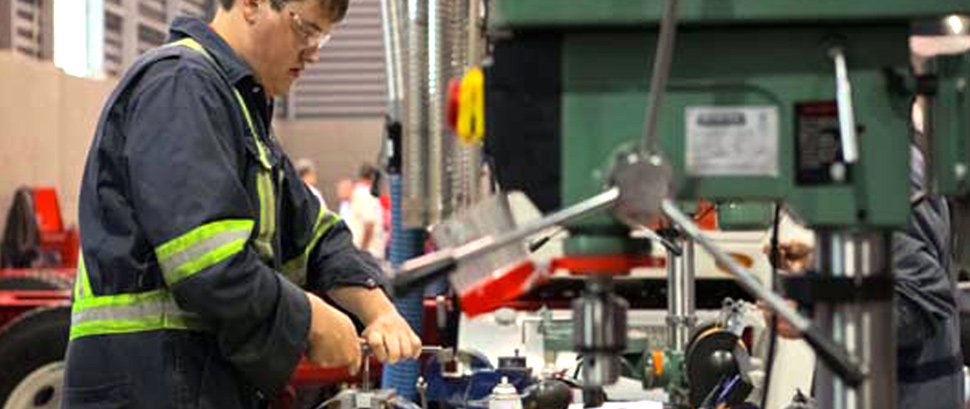 Heavy Equipment Technicians maintain, repair, and overhaul heavy vehicles and industrial equipment, such as:
Internal combustion engines and components, both stationary and mobile.
Tracked equipment, commonly called crawler tractors.
Ground-engaging equipment and components, including rippers, ditchers, backhoes, trenchers, and similar equipment.
Towed earth-moving equipment, commonly called scrapers.
Self-propelled earth moving equipment, commonly called motor scrapers.
Rubber-tired equipment, commonly called tractors.
On-highway and off-highway motor vehicles, commonly called trucks.
Towed on-highway and off-highway vehicles, commonly called trailers.
In general, Heavy Equipment Technicians are employed by specialized repair shops and organizations that own or lease heavy equipment used in the construction, mining, forestry, material handling, landscaping, land clearing, agriculture, and transportation industries. Heavy Equipment Technicians must interpret work orders and technical manuals, write service reports, keep equipment cleaned, lubricated, and maintained, diagnose faults or malfunctions, adjust equipment and repair or replace defective parts, components, or systems, test repaired equipment for proper performance, and ensure that the work done meets manufacturers' specifications and legislated regulations.
Main dutiesHeavy-duty equipment mechanics perform some or all of the following duties:
Check bulldozers, cranes, graders and other heavy construction, agricultural, logging and mining equipment for proper performance and inspect equipment to detect faults and malfunctions
Diagnose faults or malfunctions using computerized and other testing equipment to determine extent of repair required
Adjust equipment and repair or replace defective parts, components or systems, using hand and power tools
Test repaired equipment for proper performance and to ensure that work meets manufacturers' specifications
Clean, lubricate and perform other routine maintenance work on equipment
Service attachments and working tools such as harvesting and tillage equipment, blades, ploughs, winches and side booms
May perform repair work on heavy trucks
May attach components and adjust new farm equipment.
Who do they work for?
Construction sites
Industrial sites
Modern labratories
Independent shop
Mines
Sample titles
Construction equipment mechanic
Diesel mechanic
Farm equipment mechanic
Mining mechanic
Essential Skills
Document use
Thinking: problem solving, decision making
How to join the field
Completion of secondary school is usually required.
Completion of a three- to five-year apprenticeship program or a combination of over four years of work experience in the trade and some high school, college or industry courses in heavy equipment repair is usually required to be eligible for trade certification.
Heavy-duty equipment mechanic trade certification is compulsory in Quebec and Alberta and available, but voluntary, in all other provinces and the territories.
Farm equipment mechanic trade certification is available, but voluntary, in Newfoundland and Labrador, Prince Edward Island, Nova Scotia, New Brunswick, Ontario, Manitoba, Saskatchewan, Alberta and British Columbia.
Interprovincial trade certification (Red Seal) is also available to qualified heavy-duty equipment technicians and farm equipment mechanics.
Salary
Minimum $20.00
Maximum $42.00
Annual salaries between $40,500 to $104,000
For more information, contact:
Skills/Compétences Canada
294 Albert Street, Suite 201
Ottawa, ON K1P 6E6
Tel: 877 754 5226
Website : http://skillscompetencescanada.com/en/