Aerospace Technology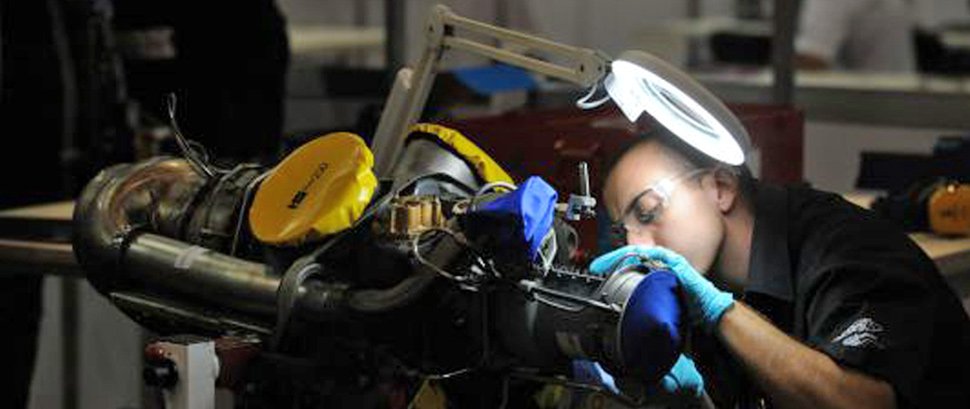 Aerospace technicians install, maintain, repair and overhaul aeronautical products including mechanical, electrical, hydraulic and computerized equipment. They must rigorously check and inspect equipment to make sure hazards are identified and corrected, and that they meet Transport Canada standards of safety and performance. Their work typically consists of assembling and disassembling equipment, inspecting it or performing routine maintenance, such as cleaning/lubricating or adjusting components and systems. An aircraft maintenance technician may specialize in specific aircraft systems as part of an AMO (Aircraft Maintenance Organization) shop such as engines, airframes, avionics or hydraulics.
With experience, aircraft maintenance technicians may progress to becoming a licensed AME. From this base, an AME can career path to many different areas within the Aviation Industry including but not limited to Aircraft Maintenance Supervisors, Inspectors etc.
Main dutiesAircraft mechanics perform some or all of the following duties:
Troubleshoot aircraft structural, mechanical or hydraulic systems to identify problems and adjust and repair systems according to specifications, technical drawings, manuals and established procedures
Repair and overhaul aircraft structural, mechanical or hydraulic systems
Install or modify aircraft engines and mechanical, hydraulic, flight control, fuel and pneumatic systems
Dismantle airframes, aircraft engines or other aircraft systems for repair, overhaul and cleaning, and reassemble
Perform and document routine maintenance
Order and maintain inventory of parts and supplies.
Aircraft inspectors perform some or all of the following duties:
Inspect structural and mechanical systems of aircraft and ensure that these systems meet Transport Canada and company standards of performance and safety.
Inspect work of aircraft mechanics performing maintenance, repair and overhaul, or modification of aircraft and aircraft mechanical systems to ensure adherence to standards and procedures
Maintain detailed repair, inspection and certification records and reports.
Who do they work for?
Aircraft manufacturers
Airlines
Aircraft operators
Sample titles
Aircraft structures engineer
Aircraft avionics engineer
Aircraft systems inspector
Aircraft mechanic
Essential Skills
Document use
Numeracy
Thinking
How to join the field
Completion of secondary school is required.
A college diploma in aircraft maintenance or completion of a four-year apprenticeship program is usually required.
Several years of on-the-job training are required for aircraft mechanics.
Aircraft mechanics and inspectors who sign maintenance releases and certify airworthiness require an Aircraft Maintenance Engineer's (AME) licence issued by Transport Canada.
Trade certification for aircraft maintenance engineers is available, but voluntary, in Nunavut and the Northwest Territories.
Trade certification for aircraft structural technicians is available, but voluntary, in British Columbia.
Industry certification from the Canadian Aviation Maintenance Council for some occupations in this unit group is available, but voluntary.
Aircraft inspectors require several years of experience as an aircraft mechanic.
Salary
Minimum $15.00
Maximum $41.00
Annual salaries between $27,500 to $75,000
For more information, contact:
Skills/Compétences Canada
294 Albert Street, Suite 201
Ottawa, ON K1P 6E6
Tel: 877 754 5226
Website : http://skillscompetencescanada.com/en/