Mechatronics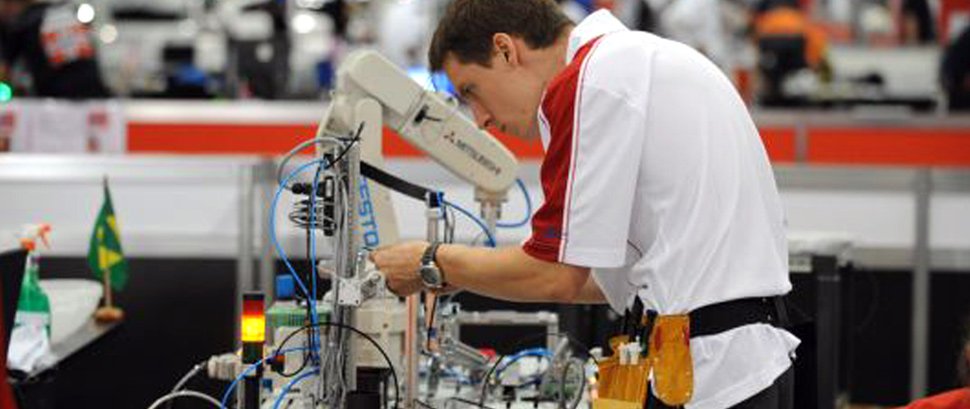 Mechatronics combines the technologies of mechanics, pneumatics, hydraulics, electronics, information processing, basic electricity, and motor and motion control. A career in this field can involve assembly, manufacture, maintenance and commissioning of automation machinery, products and production systems. Workers are required to complete the mechanical, electrical and pneumatic assembly of a parts transfer system in accordance with provided documentation and schematics. The electrical wiring involved in this work includes input and output connections, sensor and motor wiring, switches, push buttons, and pneumatic solenoids.
Mechatronics workers must have a broad knowledge base, including a familiarity with pneumatic, hydraulic and electrical symbology, relay logic and ladder diagram wiring and programming techniques. Using tools such as multimeters, wrenches, allen keys and screwdrivers, they set up a machine so that a workpiece will be moved in accordance to a set pattern under the control of a Programmable Logic Controller (PLC). A large portion of their time is spent faultfinding, troubleshooting, and looking for hardware problems, as well as searching for ways to improve different aspects of the control project, possibly including efficiency or safety issues.
Main dutiesElectrical and electronics engineers perform some or all of the following duties:
Conduct research into the feasibility, design, operation and performance of mechanical, electrical, telecommunications, control and computer engineering.
Prepare material cost and timing estimates, reports and design specifications for a variety of different engineering disciplines.
Design electrical and electronic circuits, components, systems and equipment, plants, machines, components, tools and fixtures.
Supervise and inspect the installation, modification, testing and operation of mechanical, telecommunication, computer, control and electronic in an industrial facility.
Develop maintenance and operating standards for all engineering systems within a building or organization.
Investigate failures of mechanical, electrical, computer, control or telecommunication products.
Prepare contract documents and evaluate tenders for construction or maintenance
May supervise technicians, technologists, programmers, and analysts
Who do they work for?
Manufacturing
Design organizations
Sample titles
Manufacturing technician
Robotics Technologist
Computer programmer
Mechanical maintenance engineer
Control systems engineer
Electrical engineering technologist
Essential Skills
Thinking: problem solving
Document use
How to join the field
A two or three year college Engineering Technology diploma in Mechatronics/Robotics
A bachelor's degree in electrical or electronics engineering or in an appropriate related engineering discipline
Licensing by a provincial or territorial association of is required to approve engineering drawings and reports and to practise as a Certified Engineering Technologist (CET) or a Professional Technologist (Ptech)
Engineering Technologists are eligible for registration following graduation from an accredited educational program, and after three or four years of supervised work experience in engineering technology and passing a professional practice examination.
Supervisory and senior positions in this unit group require experience.
Salary
Annual salaries between $46,000 to $92,500
For more information, contact:
Skills/Compétences Canada
294 Albert Street, Suite 201
Ottawa, ON K1P 6E6
Tel: 877 754 5226
Website : http://skillscompetencescanada.com/en/