CNC Machining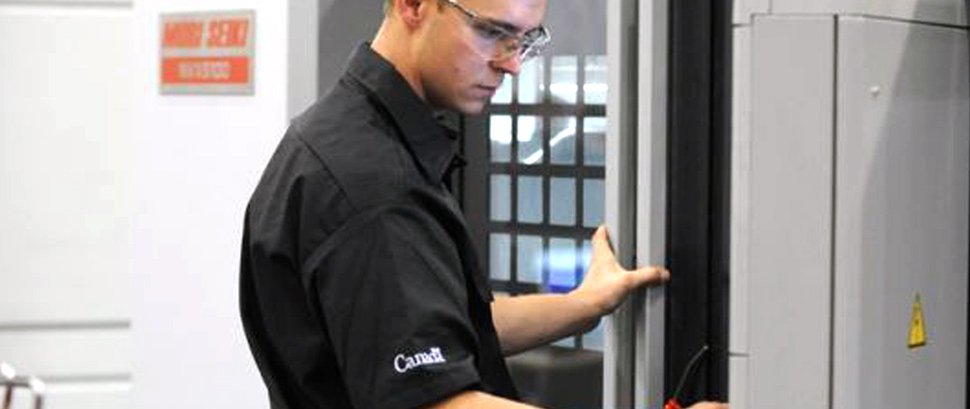 Computer numerical control (CNC) technology is used by machinists to operate a variety of manufacturing tools and equipment in the production of metal parts. These parts must be made to exacting standards, and the machinist uses precision measuring instruments to ensure accuracy and that the parts meet quality guidelines. A machinist reads and interprets specifications and blueprints, calculates dimensions and tolerances, lays out their work and marks pieces for machining. They then set up, program and operate their machine tools, such as CNC metal turning lathes, to cut or grind the metal into parts or products to the precise specifications of engineers or designers. They fit and assemble the machined metal parts and subassemblies, and verify their dimensions, strength and hardness.
The job of the machinist has changed due to technical advances such as the development of CNC technology. Now more than ever, it combines mental ability with manual skills – to develop a project from a blueprint requires careful thought and an understanding of mathematics and computer programming, as well as good mechanical ability. However, modern computer age machinists must still understand the properties of metal and basic manual machining techniques as they rely on this knowledge to set up and operate the variety of machine tools they use.
Main dutiesMachining tool operators perform some or all of the following duties:
Study job orders and interpret blueprints to determine machining operations to be performed
Set up and operate machine tools to perform repetitive machining operations, such as turning, milling, drilling, boring, planing, honing, broaching, grinding or other machining operations
Verify dimensions of parts machined using micrometers, callipers and other precision measuring instruments
Prepare etching solution and immerse metal parts or workpiece in etching solution to remove unwanted portions
Perform routine maintenance on equipment and machinery
May enter codes specifying speed, feed and cut of the toolpath for computer numerical controlled (CNC) machine tools.
Who do they work for?
Manufacturing industry
Transport industry
Trade industry
Sample titles
Tool and die maker
Machining and tooling inspector
Machine tool set-up operator
Aircraft parts etcher
Boring mill operator
Lathe machining operator
Essential Skills
How to join the field
Some secondary school education is required.
College or other courses in machining may be required.
Several months of on-the-job training are provided.
Senior positions in this unit group, such as set-up operator, require experience as a machine operator.
Salary
Minimum $15.00
Maximum $33.00
Annual salaries between $32,000 to $74,000
For more information, contact:
Skills/Compétences Canada
294 Albert Street, Suite 201
Ottawa, ON K1P 6E6
Tel: 877 754 5226
Website : http://skillscompetencescanada.com/en/