Sheet Metal Work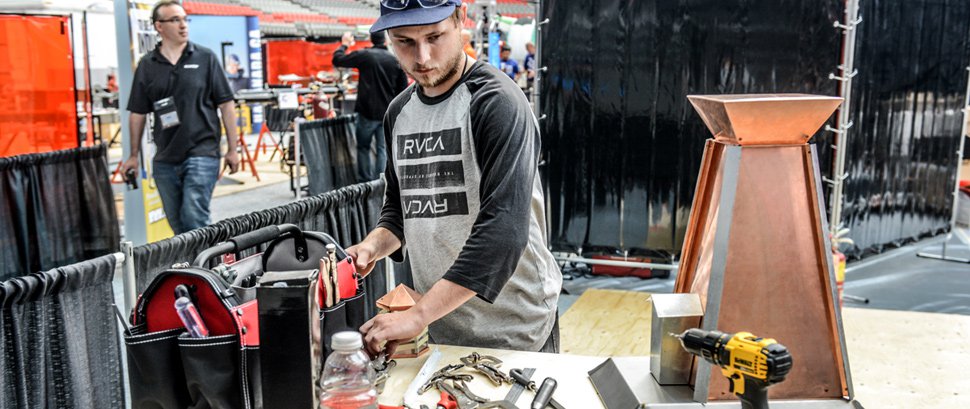 Workers in this field fabricate and install a wide variety of construction related items using sheet metal or plastic materials components. The heating, ventilation and air-conditioning systems ( HVAC ), that control the temperature, humidity and total air quality in residential, commercial, industrial and other buildings by precisely following blueprints, design specifications and manufacturers' instructions. A Sheet Metal worker requires highly specialized and up to date skills to accomplish the various tasks involved in the trade.
In Sheet metal, technicians work with a variety of precision measuring tools to manipulate conditions such as pressures in air flow in duct systems. Voltmeters, pressure gauges, manometers and other testing devices are used in analyzing system performance. When servicing equipment, they must use extreme care in working with the different components of the HVAC Systems because of some of the intricate systems.
Main dutiesSheet metal workers perform some or all of the following duties:
Read engineering and architectural drawings, sketches and work specifications to be performed, and lay out, measure and mark sheet metal according to drawings or templates
Develop patterns for sheet metal using computer-assisted design and drafting (CAD) software package
Operate light metalworking machines such as shears, brakes, punches, and drill presses, including computer numerical control (CNC) equipment to cut, bend, punch, drill, shape or straighten sheet metal
Operate computerized laser or plasma cutting equipment to cut sheet metal
Install and use rigging and hoisting equipment
Fit and join sheet metal parts using riveting, welding, soldering and similar equipment to fabricate products such as ventilation shafts, exhaust hoods, eavestroughs, partition frames, air and heat ducts, material handling systems, roof decking and sheet metal buildings
Install sheet metal products according to specifications and building codes
Grind and buff seams, joints and rough surfaces
Inspect product quality and installation to ensure conformance to specifications.
Who do they work for?
Residential home owners
Commercial organizations
Construction industry
Manufacturing industry
HVAC Companies
Sample titles
Boilermaker
Steel fabricators
Tinsmith
Refrigeration
Essential Skills
Document use
Numeracy
Thinking: problem solving
How to join the field
Completion of secondary school is usually required.
Completion of a three to five year apprenticeship program or A combination of over four years of work experience in the trade and some high school, college or industry courses in sheet metal working is usually required to be eligible for trade certification.
Trade certification is compulsory in Quebec, Ontario, Saskatchewan, Alberta and British Columbia and available, but voluntary, in all other provinces and the territories.
Interprovincial trade certification (Red Seal) is also available to qualified sheet metal workers.
Salary
Minimum: $16.00
Maximum: $35.50
Annual salaries between $34,500 to $74,500
For more information, contact:
Skills/Compétences Canada
294 Albert Street, Suite 201
Ottawa, ON K1P 6E6
Tel: 877 754 5226
Website : http://skillscompetencescanada.com/en/