Refrigeration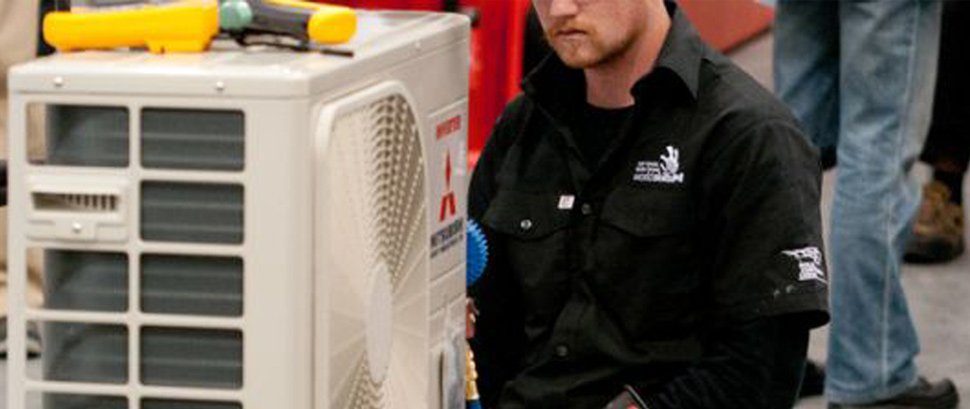 Workers in this field install and maintain the heating and air-conditioning systems that control the temperature, humidity and total air quality in residential, commercial, industrial and other buildings by precisely following blueprints, design specifications and manufacturers' instructions.
They need knowledge of electrical components and systems since heating, air-conditioning and refrigeration systems consist of many mechanical, electrical and electronic components such as motors, compressors, pumps, fans, thermostats and switches.
In refrigeration, technicians work with a variety of precision measuring tools to manipulate conditions such as refrigerant pressures and air flow in duct systems. Voltmeters, pressure gauges, manometers and other testing devices are used in analyzing system performance. When servicing equipment, they must use extreme care to conserve, recover and recycle the chlorofluorocarbon (CFC) refrigerants used in the refrigeration and air-conditioning systems.
Main dutiesRefrigeration and air conditioning mechanics perform some or all of the following duties:
Read and interpret blueprints, drawings or other specifications
Measure and lay out reference points for installation
Assemble and install refrigeration or air conditioning components such as motors, controls, gauges, valves, circulating pumps, condensers, humidifiers, evaporators and compressors using hand and power tools
Measure and cut piping, and connect piping using welding and brazing equipment
Install, troubleshoot and overhaul entire heating, ventilation, air handling, refrigeration and air conditioning systems
Start-up system and test for leaks using testing devices
Recharge system with refrigerant, check and test regulators, calibrate system and perform routine maintenance or servicing
Repair and replace parts and components for entire refrigeration, air conditioning, ventilation or heat pump systems
May install, maintain and repair equipment in refrigerated trucks used to transport food or medical supplies
May prepare work estimates for clients.
Who do they work for?
Residential home owners
Commercial organizations
Manufacturing companies
Self-employed
HVAC Companies
Sample titles
Boilermaker
Electrical Appliance Servicer
Pipefitter
Central air conditioning mechanic
Heating and cooling mechanic
Heating, ventilation and air conditioning (HVAC mechanic)
Essential Skills
Reading text
Document use
Thinking: problem solving
How to join the field
Completion of secondary school is usually required.
Completion of a three- to five-year apprenticeship program or A combination of over five years of work experience in the trade and some high school, college or industry courses in refrigeration and air conditioning repair is usually required to be eligible for trade certification.
Trade certification for refrigeration and air conditioning mechanics is compulsory in Nova Scotia, New Brunswick, Quebec, Ontario, Manitoba, Saskatchewan and Alberta and available, but voluntary, in all other provinces and the territories.
Trade certification for transport refrigeration mechanics is available, but voluntary, in New Brunswick, Alberta and British Columbia.
Red Seal endorsement is also available to qualified refrigeration and air conditioning mechanics upon successful completion of the interprovincial Red Seal examination.
Salary
Minimum: $15.00
Maximum: $40.00
Annual salaries between $30,000 to $90,000
For more information, contact:
Skills/Compétences Canada
294 Albert Street, Suite 201
Ottawa, ON K1P 6E6
Tel: 877 754 5226
Website : http://skillscompetencescanada.com/en/