Plumbing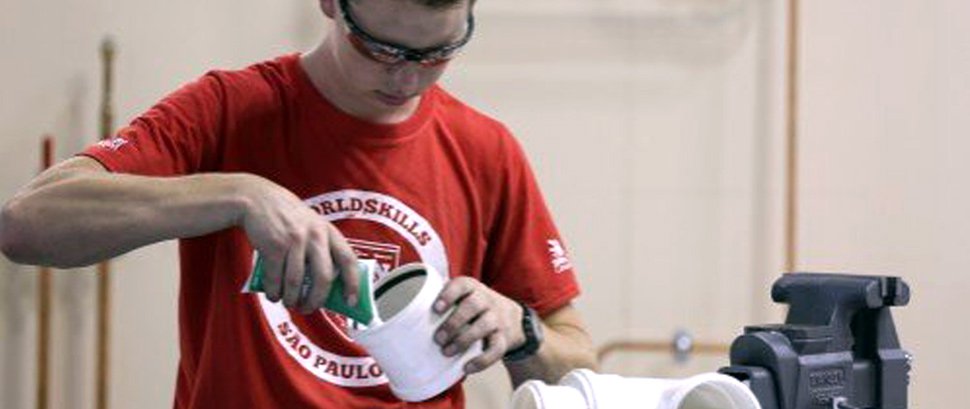 Plumbers install and repair plumbing fixtures and water, waste disposal, drainage and gas systems in residential, commercial and industrial buildings. They read blueprints to determine the layout of the system and measure and mark areas where the pipes will be installed and connected, checking for obstructions such as electrical wiring. Once a project has begun, they perform a number of tasks, from simple installation of pipes and fittings to complex calculations and planning in specialized environments such as hospitals. The system must be checked for leaks using air and water pressure gauges to ensure that it is working properly.
Plumbers use a wide range of hand and power tools, torches and welding equipment to cut and shape pipe to precise specifications. An important part of their job is to fit the piping into the building with the least waste of materials while maintaining grade or slope and avoiding trapping air or fluids in the system. A plumber's skills are also applicable in maintenance, service work, hydronic heating, and medical gas cross connection controls and inspections.
Main dutiesPlumbers perform some or all of the following duties:
Read blueprints, drawings and specifications to determine layout of plumbing system, water supply network and waste and drainage systems
Install, repair and maintain domestic, commercial or industrial plumbing fixtures and systems
Locate and mark positions for pipe connections, passage holes and fixtures in walls and floors
Cut opening in walls and floors to accommodate pipe and pipe fittings
Measure, cut, bend and thread pipes using hand and power tools or machines
Join pipes using couplings, clamps, screws, bolts, cement or soldering, brazing and welding equipment
Test pipes for leaks using air and water pressure gauges
May prepare cost estimates.
Who do they work for?
Self-employed
Construction (residential and commercial)
Maintenance departments
Sample titles
Steamfitter / pipefitter
Gas fitter
Sprinkler fitter
Maintenance plumber
Apprentice plumber
Essential Skills
Document use
Oral communication
Thinking: Problem solving
How to join the field
Completion of secondary school is usually required.
Completion of a four- to five-year apprenticeship program or A combination of over five years of work experience in the trade and some high school, college or industry courses in plumbing is usually required to be eligible for trade certification.
Trade certification is compulsory in Nova Scotia, Prince Edward Island, New Brunswick, Quebec, Ontario, Saskatchewan and Alberta and available, but voluntary, in Newfoundland and Labrador, Manitoba, British Columbia, the Yukon, the Northwest Territories and Nunavut.
Red Seal endorsement is also available to qualified plumbers upon successful completion of the interprovincial Red Seal examination.
Salary
Minimum: $16.00
Maximum: $38.00
Annual salaries between $34,500 to $83,000
For more information, contact:
Skills/Compétences Canada
294 Albert Street, Suite 201
Ottawa, ON K1P 6E6
Tel: 877 754 5226
Website : http://skillscompetencescanada.com/en/