Carpentry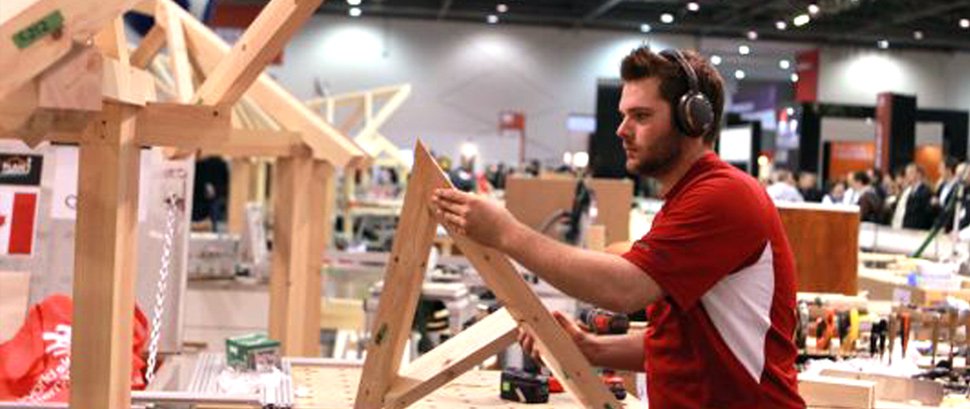 There are two main categories: structural carpenters who build and maintain structures, and detail carpenters who concentrate on interior cosmetic applications. All carpenters perform numerous tasks. They may be required to install prefabricated structures such as window frames, doors or shelves, build foundations, install beams and subflooring, or erect walls and roofing systems. They also build stairways and wall partitions, install fixtures in kitchens and bathrooms, apply drywall, plaster or insulation material to both ceilings and walls, and install moldings, parquet flooring and tiles.
Carpenters use the latest technology in hand and power tools, including computerized machinery, to cut, fit and assemble wood and other materials in the construction of buildings, docks, industrial plants and many other structures. They start with the drawings or blueprints that define the scope of the specific project, measure and mark the layout, cut and shape the materials with hand and power tools, join the materials, check the work and make any necessary adjustments. Their duties often include arranging for sub-contractors, preparing cost estimates and writing progress reports also.
Main dutiesCarpenters perform some or all of the following duties:
Read and interpret blueprints, drawings and sketches to determine specifications and calculate requirements
Prepare layouts in conformance to building codes, using measuring tools
Measure, cut, shape, assemble and join materials made of wood, wood substitutes, lightweight steel and other materials
Build foundations, install floor beams, lay subflooring and erect walls and roof systems
Fit and install trim items, such as doors, stairs, moulding and hardware
Maintain, repair and renovate residences and wooden structures in mills, mines, hospitals, industrial plants and other establishments
Supervise apprentices and other construction workers
May prepare cost estimates for clients.
Who do they work for?
Self-employed contractors
Construction companies
Residential/commercial carpentry
Sample titles
Apprentice carpenter
Carpenter-joiner
Journeyman/women
Maintenance carpenter
Metal framer
Roofer
Building contractor
Essential Skills
Document use
Numeracy
Thinking: Problem Solving, Decision Making
How to join the field
Completion of secondary school is usually required.
Completion of a three- to four-year apprenticeship program or A combination of over four years of work experience in the trade and some high school, college or industry courses in carpentry is usually required to be eligible for trade certification.
Trade certification for carpenters is compulsory in Quebec and available, but voluntary, in all other provinces and the territories.
Trade certification for framers is available, but voluntary, in Saskatchewan.
Red Seal endorsement is also available to qualified carpenters upon successful completion of the interprovincial Red Seal examination.
Salary
Minimum: $16.00
Maximum: $34.00
Annual salaries between $33,000 to $73,000
For more information, contact:
Skills/Compétences Canada
294 Albert Street, Suite 201
Ottawa, ON K1P 6E6
Tel: 877 754 5226
Website : http://skillscompetencescanada.com/en/