Automation and Control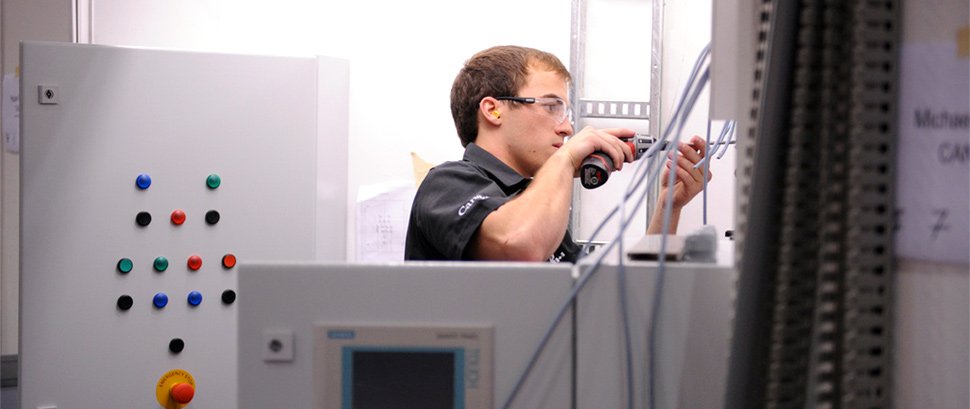 Automation and control technicians may work on almost anything, from home appliances to the three hundred horsepower motors that run conveyor belts in factories. They need to have knowledge of the basic electrical theory related to motors and wire calculations, an understanding of commercial and industrial wiring methods, and be aware of the rules and regulations of the Electrical Safety Code in everything they do. They are faced with challenges that involve the use of programmable logic controllers, computers and IP technology.
An aptitude for mathematics and an eye for detail will serve you well in this field. You should be able to work well with others since you will often be part of a team, but also be able to work independently and take initiative when necessary. Excellent communication and analytical skills, adaptability, flexibility and knowledge of computers are important. You need to be able to read, interpret and understand complex diagrams, so good reading and writing abilities are required. If you are interested in electricity and how it works, you might enjoy working in electric motor control.
Who do they work for?
Automation and control companies
Manufacturing companies
Technology companies
Government
Sample titles
Design and testing Engineer
Industrial Motor Control
Electronic service technician
Industrial instrument technician
Electrical instrument inspector
Switchgear fitter-wirer
Transformer inspector
Transformer winder
Instrumentation Control
Automation Engineer
Essential Skills
How to join the field
Completion of secondary school is usually required.
College courses in automation and control are usually required.
Several years of on-the-job training are usually provided.
Set-up persons, inspectors and lead hands in this unit group may require experience as an assembler, fitter or wirer in the same company.
Salary
Minimum: $18.00
Maximum: $38.00
For more information, contact:
Skills/Compétences Canada
294 Albert Street, Suite 201
Ottawa, ON K1P 6E6
Tel: 877 754 5226
Website : http://skillscompetencescanada.com/en/